KATHERINE HUNKA
Artistic Director
London born, Katherine Hunka studied with musician, educator and composer, Sheila Nelson and at the Royal Academy of Music with Gyorgy Pauk. She pursued her studies at Indiana University with Mauricio Fuks and became his teaching assistant. Katherine was subsequently invited to become a member of The Academy of St. Martin in the Fields, touring extensively with them.
In 2002 Katherine was appointed Leader of the Irish Chamber Orchestra and has directed many concerts from the violin as well as performing as soloist across a wide range of repertoire. Together with the ICO, she has championed the music of Irish composers and over the years has premièred many new works by contemporary composers such as Raymond Deane John Kinsella and Sam Perkin.
Katherine has collaborated with ICO guest artists, performing concertos with Pekka Kuusisto, Nigel Kennedy and Martin Hayes, among others. Nationally, the orchestra hosts a concert season in its home town of Limerick and Dublin along with other major cities. Katherine directs regional tours to every corner of the country and has made international appearances directing in distinguished concert halls across Europe and Asia including the Esplanade in Singapore and Berlin's prestigious Konzerthaus.
Katherine enjoys performing a great range of styles, from Bach to Tango. Her Far Flung Trio, which includes accordionist Dermot Dunne and bassist Malachy Robinson, is in great demand.
As a soloist and chamber musician Katherine has been a regular visitor to the Aldeburgh Festival, the West Cork Chamber Music Festival, the festival of Great Music in Irish Houses and the Killaloe Chamber Music Festival.At Aldeburgh, she premiered Benjamin Britten's re-discovered concerto for violin and viola with violist Philip Dukes. This season she will perform as soloist in Mozart's Sinfonia Concertante at the Kilkenny Arts' Festival with her husband Joachim and play chamber music at the Heidelberg festival in Germany.
Katherine has been a guest leader with the Manchester Camerata, the Scottish Chamber Orchestra and Royal Scottish National Orchestra and has performed solo concertos with the City of London Sinfonia, the National Symphony Orchestra of Ireland and RTÉ Concert Orchestra.
She teaches on the MA in Classical Strings programme at the Irish World Academy of Music and Dance at the University of Limerick which is operated jointly by Irish Chamber Orchestra and the Academy. Katherine is a Professor at the CIT Cork School of Music and has been a visiting Professor at Indiana University USA.
She plays a Jean Baptiste Vuillaume violin (1874) and her bows are by the Irish maker Gary Leahy.
JOACHIM ROEWER
Course Director
Born in East Germany, Joachim Roewer studied at the Musikhochschule Weimar with Professor Wuensch. He continued his studies at the Orchesterakademie of the Berlin Philharmonic, during which time he frequently performed with the orchestra. In 1990 he was appointed principal viola player of the international Gustav Mahler Youth Orchestra under Claudio Abbado.
In addition to his work with the Irish Chamber Orchestra, Joachim is much in demand as a freelance solo and orchestral player. He has performed with the National Symphony Orchestra of Ireland and regularly tutors the viola section of the National Youth Orchestra, with whom he undertook a nationwide tour as soloist in Harold in Italy.
A widely respected chamber musician, he has performed with Bruno Giuranna, the Vogler String Quartet and the RTE Vanbrugh quartet. He is a founding member of the Hibernia String Trio and the Hunka Quartet.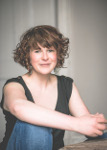 KATHLEEN TURNER
Course Manager
Kathleen Turner is a singer, songwriter and community musician. She holds two Masters Degrees from the University of Limerick, MA Community Music and MA Ritual Chant and Song, and a BA (Hons) in English and Politics from the University of Stirling. Kathleen is currently pursuing a PhD in Arts Practice at the Irish World Academy of Music and Dance.
From 2008 – 2014, Kathleen was Community Engagement Manager for the Irish Chamber Orchestra, designing and implementing a number of projects that bring live music into the community. This included 'Sing Out with Strings,' a community music programme for 4 -12 year olds living in Limerick City, Ireland. Sing Out provides 300 children annually with free access to singing, songwriting and instrumental tuition.  She continues to work with the programme as a singing and songwriting tutor.
Kathleen is the Course Director of MA Community Music at the Irish World Academy of Music and Dance, where she also teaches Gospel and related repertoire. She is also manager of ConCorda Chamber Music Course, a joint initiative led by the Irish Association of Youth Orchestras and the Irish Chamber Orchestra, held annually for young string musicians in Ireland.
ADRIAN PETCU
Honorary Director
Adrian Petcu has lived in Cork since 1978 and is now Senior Lecturer at Cork School of Music. His performing activities in his native Romania included solo, chamber music and concerto appearances and also membership of various prestigious orchestras with whom he toured Europe, Australia and New Zealand. Before coming to Ireland, he held a teaching position at Music Lyceum, Bucharest, tutoring students of recognized international standard. Here with the Lyceum Chamber Orchestra, of which he was founder and coach, he was awarded the Gold Medal at the International Competition, Poland 1978.
His musical activities in Ireland are equally wide – solo violin and viola appearances with orchestras, duo recitals, chamber music performances and recordings. With such groups as Jupiter Ensemble, D Amici Flute Quartet, Arum Ensemble he gave recitals throughout Ireland and as a member of the Crawford Piano Trio he consistently championed works by contemporary Irish composers and performed throughout Europe, USA and Japan. Their recording on Altarus Label of Philip Martin's Serendipity, based on seven paintings in the Crawford Gallery, Cork, was critically praised.
Other work includes adjudication in national and local competitions, conducting and coaching regional and national youth orchestras, specialist extern examiner for 3rd level and postgraduate level courses at Royal Irish Academy of Music, Waterford Institute of Technology and Dublin Institute of Technology, string staff development workshops, masterclasses in Ireland and abroad and member of teaching staff in chamber music courses ie ConCorda, Aravon, IAYO, Xenia International Chamber Music Course, Italy. He is presently a member of the Board of Directors of Music Network and has been a member of the Board of Directors of National Youth Orchestras. He is also a member of the String Committee Feis Ceoil, Dublin and has been a member of the National Committee of the European String Teacher Association, Ireland.