The Artistic Staff for 2020 will be announced in the New Year. However, below are those from ConCorda 2019.
Christopher Jones, Violin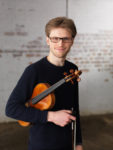 Originally from London, Ontario, Christopher Jones read music at McGill University in the class of Jonathan Crow, graduating with a BMus (Hons) first class in 2009. He was then offered a scholarship to complete his masters studies at the Royal Northern College of Music with Pavel Fischer and Leland Chen, graduating in 2011 with distinction.
In addition to leading the Gildas Quartet, Christopher frequently directs the London Musical Arts Orchestra at St. Martin-in-the-Fields from the violin, with whom he has appeared as a soloist for various concertos and other works by Bach, Beethoven, and Vivaldi. Other concerto appearances include performances of the Sibelius Concerto with the New Bristol Sinfonia, and of the Butterfly Lovers, Stravinsky, and Paganini Concertos with the Sheffield Philharmonic Orchestra. Christopher also enjoys working as an orchestral musician, playing with the Manchester Camerata, the Hallé, the Orchestre Symphonique de Montréal, Sinfonia Cymru, and guest leading the Skipton Camerata. Elsewhere, he has led a performance of Goehr's …Around Stravinsky at the Wigmore Hall which was later featured on BBC Radio 3.
Christopher teaches violin, chamber music, and conducts student orchestras at the Sheffield Music Academy, and has taught undergraduate chamber ensembles at the Royal Birmingham Conservatoire.
Christopher currently plays a violin on generous loan from the Harrison Frank Foundation.
Diane Daly, Violin, Music Theatre

Diane has been a member of the Irish Chamber Orchestra since 1998. During this time her reputation as a freelance chamber musician has spread and she has toured extensively with orchestras including the Academy of St Martin in the Fields (America, Norway, Germany, Italy and Spain) and the European Union Chamber Orchestra (India and the Middle East).
She has been co-principal of the Orchestra of St John in London and is a founding member of the Killaloe Quartet which has performed extensively in Ireland, London and Paris. Based in County Clare, she works extensively as an animateur and workshop leader, both as a freelance educationalist and as leader of many projects for the ICO. Combining her particular skills in jazz, traditional music and improvisation Diane Daly also plays in a jazz duo and has appeared at international jazz festivals with the Brian Irvine Ensemble.
Alice Zawadzki, Violin, Vocals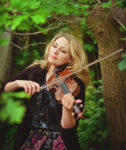 "Alice Zawadzki is a vocalist, violinist, songwriter and composer based in London. Her work has seen her gain considerable repute as "a genuine original" (The Guardian).
Anglo-Polish Alice's rich musical background and "whimsical hyper-creativity" (MOJO Magazine) converge into artistry which draws upon her early exposure to New Orleans jazz and gospel with the legendary Lillian Boutté who took Alice under her wing and on tour as a teenager. She performs as both a soloist and as a collaborator with headline performances at the Royal Albert Hall, Ronnie Scott's, the London Jazz Festival, the Vortex, and Celtic Connections.
She released her debut solo album China Lane (Whirlwind Recordings) in 2014, and it was met with widespread critical acclaim, being made Album of the Week by BBC Radio 3, and making The Guardian's Best Albums End of Year List. It also led to her nomination for British Vocalist of the Year by both Jazz FM (2015 and 2018) and the Parliamentary Jazz Awards (2015 and 2017).
She trained in jazz singing and composition and gained an MA at the Royal Academy of Music, with a scholarship from the Musicians Benevolent Fund, after completing undergraduate studies in classical violin at the Royal Northern College of Music, where she also won the Hilda Collens Prize and the Cove Park Emerging Artists Residency.
Her forthcoming release, 'Within You Is A World Of Spring', features a who's-who of celebrated players and Alice's distinctive voice can be heard on numerous film and television scores, including Disney's major motion picture African Cats, and Charlie Brooker's Black Mirror (BBC). She was the vocal and fiddle soloist in James Horner's iconic score of the film Titanic.
Alice has worked for Live Music Now, a charity which takes live music into special needs schools, hospitals, care homes and prisons. She is currently a member of Play For Progress, an organization who provide music workshops and friendship to unaccompanied teenagers who have or are seeking refugee status in the UK."
Lucy Nolan, Viola

Dublin-born, violist Lucy Nolan divides her time between her work as a chamber musician and teaching. In 2006, she, with violinist Jonathan Martindale and cellist Peggy Nolan formed the Eblana String Trio, which enjoys a busy concert schedule performing in venues such as the Wigmore Hall, the Purcell Room, St John Smith Square and the Bridgewater Hall. They have been broadcast on numerous occasions on BBC Radio 3 and have recently recorded a disc of British String Trios. The members of the trio were inaugural Junior Fellows of Chamber Music at Royal Birmingham Conservatoire, are former Park Lane Young Artists and CMF Artists. Separately, Lucy has collaborated in chamber performances with artists such as Isabelle Moretti, Catrin Finch, Marcia Crayford, Moray Welsh, and Thomas Riebl.
Alongside her performing career, Lucy is passionately committed to her work as a viola and chamber music tutor. She teaches at the Royal Northern College of Music in Manchester and at Royal Birmingham Conservatoire. Lucy's core values as a teacher derive from her belief that great artistry flourishes best within structure. She strives to equip her students with the tools, technique, information and ideas to allow them to successfully integrate into the profession. Lucy has worked as a consultant for the ABRSM and is a member of the European String Teachers Association.
Aside from her main work as a teacher and with the Eblanas, Lucy participates in a wide variety of musical projects. She has been a guest with many orchestras over the years, working with eminent conductors and performing extensively, from BBC Proms appearances to tours all over the world. She also works alongside her former teacher and mentor Louise Lansdown in curating the British Viola Society's contributions to International Viola Congresses. Recently, Lucy has been studying jazz improvisation and has performed and recorded with artists such as Jordan Rakei, Alfa Mist, Alice Zawadzki, Stuart McCallum and Mike Walker.
Lucy is delighted to be returning to ConCorda as a tutor having attended the course throughout her younger years.
Cian Ó Duill, Viola

Cork-born viola player Cian Ó Dúill has performed with the Vanbrugh, Carducci and Calino String Quartets, the Avalon Ensemble, Chroma and The Crash Ensemble. He has played in chamber music recitals with Anthony Marwood, Howard Shelley, Patricia Rozario, Natalie Clein, Benjamin Frith, and with members of the Leopold String Trio, the Nash Ensemble and Schubert Ensemble and has appeared at Cheltenham, Warwick Arts, Chichester, Aldeburgh, Wye Valley, Kings Lynn, Sligo Spring, and West Cork Chamber Music Festivals.
Cian was a founder member of both the Regent String Quartet and the Rothko String Trio. He is a member of the Oriel Trio (flute, viola and harp) and of the Chamber Players, a London based string sextet with whom he has recorded music by Mozart and Brahms. Concerto appearances include works by Bach, Telemann, Mozart, Bruch and Hindemith in Ireland, the UK and Spain.
Cian is a member of the Irish Chamber Orchestra, is co-principal viola with the London Mozart Players and has a busy freelance orchestral career playing regularly with the Mahler Chamber Orchestra, Britten Sinfonia, Camerata Ireland, London Symphony Orchestra, and the Orchestra of the Age of Enlightenment.
Joachim Roewer, Viola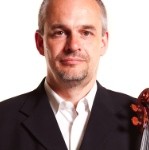 Born in East Germany, Joachim Roewer studied at the Musikhochschule Weimar with Professor Wuensch. He continued his studies at the Orchesterakademie of the Berlin Philharmonic, during which time he frequently performed with the orchestra. In 1990 he was appointed principal viola player of the international Gustav Mahler Youth Orchestra under Claudio Abbado.
In addition to his work with the Irish Chamber Orchestra, Joachim is much in demand as a freelance solo and orchestral player. He has performed with the National Symphony Orchestra of Ireland and regularly tutors the viola section of the National Youth Orchestra, with whom he undertook a nationwide tour as soloist in Harold in Italy.
A widely respected chamber musician, he has performed with Bruno Giuranna, the Vogler String Quartet and the RTE Vanbrugh Quartet. He is a founding member of the Hibernia String Trio and the Hunka Quartet.
Joachim teaches viola and chamber music at Cork School of Music and on the MA programme in Classical Strings at the Irish World Academy of Music and Dance at the University of Limerick.
William Butt, Cello
William Butt was born in London. He studied at the Royal Northern College of Music with Moray Welsh and after winning awards and scholarships such as the Royal Society of Arts, Martin Trust and first prize in the Muriel Taylor competition, he furthered his studies with Antonio Lysy in Montreal. He now enjoys a busy career as soloist, chamber musician and is Professor of cello at the Royal Irish Academy of Music in Dublin.
On the concert platform, he has performed extensively throughout Ireland, the UK, Europe and the Far East. He is a much-admired exponent of the solo repertoire, having performed and broadcast numerous works for this medium by contemporary composers, as well as the formidable solo sonatas by Kodaly and Ligeti and the suites of Bach and Britten.
In recent seasons he has appeared as soloist with the National Symphony Orchestra of Ireland, the Orchestra of St Cecilia and the Ulster Orchestra for BBC Radio 3. He has worked with conductors such as Alexander Anissimov, Gerhard Markson, Rumon Gamba, Vernon Handley and Barry Douglas.
Christopher Marwood, Cello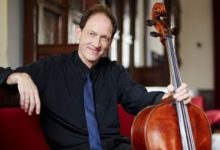 Christopher Marwood graduated from Cambridge University in 1983 and went on to study at London's Royal Academy of Music and Conservatorium Maastricht. Cello teachers included Florence Hooton, David Strange, Ralph Kirshbaum, William Pleeth and Radu Aldulescu. His chamber music mentor for several years was Emmanuel Hurwitz.
In 1985 he joined the Vanbrugh Quartet and the following year the Vanbrugh won the position of Resident Quartet to RTÉ, based in Cork. Two years later the quartet won the London International String Quartet Competition and an international career quickly followed, taking in more than 2000 concerts throughout Europe, Asia and the Americas. Over the past 30 years the quartet has collaborated with many of the world's great artists and has enjoyed invitations to leading festivals and concert venues. The Vanbrugh Quartet has released thirty CDs encompassing a wide range of repertoire, from the complete Beethoven quartets to many recordings of contemporary Irish quartets.
Christopher also performs regularly as soloist and in other chamber music groups. He will record his first solo CD in Moscow in 2017. He founded the West Cork Chamber Music Festival with Francis Humphrys in 1996 and remains director of the string quartet masterclass programme. He teaches cello and chamber music at CIT Cork School of Music and at the Royal Irish Academy of Music.
Aoife Nic Athlaoich, Cello

Dublin born Aoife Nic Athlaoich enjoys a versatile musical career, equally at home playing on period instruments as performing newly commissioned works. She has collaborated with Jazz musicians and contemporary dance groups, as well as playing under the baton as such eminent conductors as Sir John Elliot Gardiner, Sir Colin Davis and Bernard Haitink as an orchestral musician. Aoife has performed with the orchestra of the Age of Enlightenment, la Serenissima, the Avison Ensemble, Irish Baroque Orchestra, Scottish Chamber Orchestra, Classical Opera Company, London Mozart Players and is a member of the Irish Chamber Orchestra and the Orchestre Révolutionnaire et Romantique
Aoife has won prizes for solo and contemporary music performance at Feis Ceoil, Dublin as well as being awarded a Belfast Classical Music Bursary in 2007 and was awarded scholarships for her studies at the Royal Irish Academy of Music and at the Royal College of Music, London.
Aoife teaches cello at the Cork School of Music.